PGESCo engineering provides innovative solutions in various fields of power generation and industry including conceptual, detailed and final engineering design for civil, mechanical, electrical, control system and communication systems Services.
PGESCo executes detailed engineering plans from licensing to vendor interfacing.
Our skills include structural steel design, foundations design such as large rotating equipment foundations design, architectural design, electrical engineering design, equipment management and process design, Piping Stress analysis, layout, load analysis and piping supports design.
Engineering activities of conceptual, detailed or final design are covered by our highly experienced team
Building Code Analysis
Buildings occupancy classifications
Means of emergency exits
Life safety requirements
Full Range Architectural Design
Project buildings
Auxiliary facilities
Ancillary facilities
Finishing Materials Specifications
Multi-project standard specifications
Project technical specifications
Design criteria for architectural works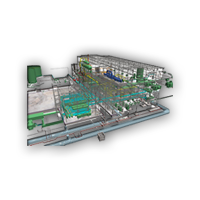 3D Modeling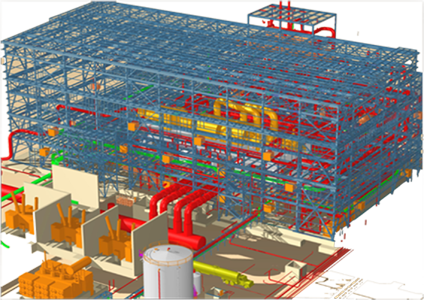 Civil/Structural
Dynamic analysis and design of machine foundation and complex structures.
Analysis and design of:

Steel structures/buildings.
Reinforced concrete structures and foundation (shallow and deep foundation).

Preparation of technical specifications, tender documents, evaluation of bidders, and recommendation of civil related award contracts.
3D modeling of civil-commodities; including steel structures, concrete buildings, rebar detailing and underground circulating water pipping.
Storm drainage and roads design.
Geotechnical
Onshore/offshore soil investigation and geophysics.
Geotechnical analysis and design.
Seismic hazard assessment and analysis.
Topographic survey and underground detection.
Hydraulic Works
Hydrographic survey, hydraulic modelling.
Design of circulating water system (onshore/offshore).
Automation and Control Design
Distributed control system (dcs) specification
Control systems architectural drawing
Dcs sizing and I/o assignment
Logic diagrams (plant protection, function block, and digital logic)
Set point index
Factory acceptance test (fat)
Instrumentation and Analysis Design
Instrument selection.
Instrument data sheets
Control valve data sheets
Control valve sizing and selection
Instrument location plans
Instrument installation details (iid)
Continuous emissions monitoring system (cems)
Steam and water analysis system (swas)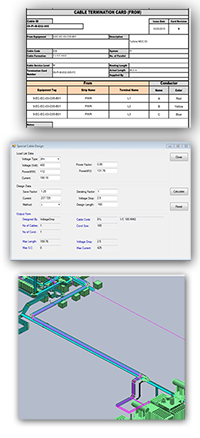 Single-line and Phasing Diagrams
Main plant electrical distribution system (single-line diagrams)
Plant phasing diagrams
Plant Cabling
Cable design that includes cable type and size selection using PGESCo proprietary software.
Cable routing that includes cable pathway selection, cable filling and length calculations, and cable pulling cards using both PGESCo proprietary and international software.
Cable termination that includes cable termination cards.
Cable MTOs and material tracking that includes cable quantities estimation and MTOs, cable installation follow-up and material tracking.
Metering and Relaying Single and Three-Line Diagrams
Plant metering and relaying single-line diagrams
Plant protection three-line diagrams
Equipment Modeling, Layout Drawings and Raceway System Design
Equipment layout drawings
Raceway system design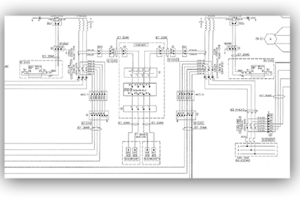 Breaker Logic Diagrams Power System Studies
Short circuit calculations
Load flow
Motor start simulations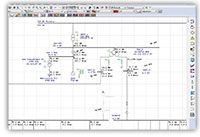 Electrical Equipment Sizing and Specification
Sizing and Specification for the Following:MV and LV Switchgear, Plant Power and LV Transformers, DC and UPS Equipment, Grounding System, Switchyard Equipment and Systems, Generator Circuit Breaker, and Isolated Phase Bus Duct
Protection Setting and Relay Coordination Study
Engineering Quality Assurance and Quality Control
Quality Assurance:
Engineering procedures and instructions "EDPs, SEIs, GEIs and WPDs"
Codes and standards
Standard technical specifications
Continuous training and development of engineers
Audits planning "internal and external"
Risk analysis and assessment
Documents and records numbering system
Codes and standards
Lessons learned
Quality Control:
Design checklists
Documents and drawings register
Calculation register
3D model review meeting
Design checkers
Design review notice "DRNs"
Coordination forms
Standard drawings
Standard forms
Risk register
Progress reports
Engineering performance measurement and scorecard
Technical specifications
Reviewing project environmental impact assessment
Coordinating and managing environmental activities between lending agencies such as the World Bank, African Development Bank and client
Developing and maintaining environmental monitoring and due diligence programs for air, surface and groundwater, noise, traffic, soil and social conditions
Writing environmental reports
Ensuring project compliance with environmental regulations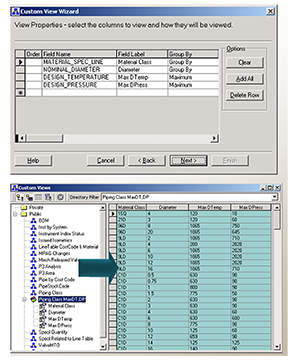 Power plant heat and mass balance conceptual design
Preliminary design report
Process piping and instrument diagrams P&IDs
Pipe list, valve list, equipment list and specialty list
Detail systems design calculation including piping and mechanical equipment sizing
Equipment technical specifications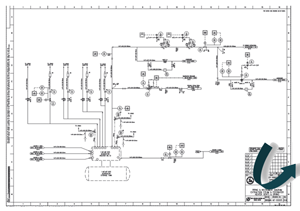 Bidders technical evaluation
Fired heat transfer equipment (Boiler/HRSG)
Unfired heat transfer equipment (deaerator/feed water, heaters/heat exchanger)
Rotating equipment (compressors/pumps)
Performance testing
Firefighting/HVAC
Water and waste water treatment
Desalination plants
Piping and Valves:
Issue piping material classes
Prepare specifications and material requisitions for piping, valves, and other in-line components, e.g. expansion Joints, traps, strainers, etc.
Prepare pipe fabrication and installation specifications
Prepare pipe insulation specification
Material selection for piping and valves
Stress Analysis:
Perform computer stress analysis of piping systems including: weight, thermal, wind, seismic, time history (steam hammer),dynamic loadings, and provide support loads and locations to the pipe support group
Perform transient analysis
Equipment and Pipe Layout Design:
Site layout optimization
3D modeling of mechanical equipment and major plant commodities
Design and routing of different plant piping systems
3D Modeling of piping, fittings, valves, special devices etc.
Ownership of plant 3D model and exchange it with contractors models run model review and interference checking of PGESCo design and contractors commodities